Oil & Gas Sector
Environmental Experience
Our experience covers a variety of petroleum and biofuels facilities and processes, including refineries, oil & gas production sites, coal gasification plants, hydraulic fracturing, retail marketing facilities with leaking underground tanks, oil terminals and shipping, and petrochemical and ethanol production plants.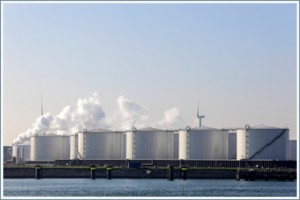 Representative Matters
Our notable experience in the oil and gas sector includes the following:
Refineries
Negotiation of state corrective action orders for a petroleum refinery, including risk based corrective action objectives for investigation and remediating site contamination.
Mergers and acquisitions and other environmental transactional work involving oil refineries in Illinois and Texas
Counseled petroleum company on Clean Air Act, Clean Water Act and RCRA complianceand corrective action for historic remediation at refineries in Illinois and Texas.
Gas Stations and Leaking Underground Storage Tanks
Repreation leaking underground storage tank matters, including response, reporting, remediation an refund reimbursement applications.
Tank Farms and Terminals
Counseled petroleum terminal client on Title V permitting matters and proposal to blend E-85 on site.
Counseled client on Oil Pollution Act compliance for petro chemical tank farm.
Enforcement and Litigation
Representation of petroleum company in responding to an unannounced state and federal plantwide multi-media inspection and subsequent multi-media complaint.
Representation of petroleum company in responding to USEPA Clean Air Act Section 114 requests and subsequent enforcement action alleging plant modifications took place without obtaining New Source Review permits and failure to meet New Source Performance Standards.
Prevailed on Motion for summary judgment in a precedent-setting case involving the applicability of generic Reasonably Available Control Technology (RACT) regulations to a refinery waste water treatment facility.
Advised petroleum refinery operator on Clean Water Act requirements at issue in USEPA criminal investigation.
Representation of specialty organic chemical manufacturer in USEPA Leak Detection and Repair (LDAR) enforcement action, including negotiating administrative order, penalties, and agreement to perform supplemental Environmental Project.
Represented clients, including major oil company, landfill gas co-generation company, and ethanol plant, in response to USEPA Section 114 Information Requests regarding Clean Air Act compliance.
Ocean Spill Response and Liability
Advised petroleum distributor on oil shipping and importation regulations and liability for activities in international waters.
Transactions and Environmental Due Diligence
Spearheaded environmental due diligence for petroleum sector lenders in numerous and varied transactions involving hundreds of oil and gas exploration and production facilities and multiple refineries, including negotiation of representations, warranties, indemnities, and post-closing remediation terms.
Led environmental due diligence and negotiation if environmental representations, warranties and indemnities on behalf of petroleum company for the acquisition of a Gulf coast refinery.
Led environmental due diligence and negotiated environmental contract terms on behalf of large regional gasoline and convenience store company in asset purchase of multiple gasoline distribution facilities across the United States.
Biofuels
Representations of ethanol manufacturing plants in obtaining initial construction and operating permits and expansion permit proceedings.
Obtained voluntary dismissal of a citizen suit in the U.S. District Court alleging "sham" Clean Air Act minor source permitting and threatening to enjoin construction of new ethanol manufacturing plant.
Representation of ethanol producers in contentious Clean water Act NPDES permit proceedings for two ethanol production facilities in Illinois, including presentation of expert witnesses and extensive anti-degradation assessment.
Representation of ethanol project developer against environmental justice claims raised by citizen's group in Clean Air construction permitting process.
Policy and Regulatory Proceedings
Representation of steel tank manufactures association in gasoline tank certification proceedings before the California Air Resources Board.
Prepared testimony and written comments on behalf of agriculture industry association in USEPA Renewable fuel Standard regulatory proceedings.
Prepared comments on behalf of energy company in proceedings to establish state regulations governing hydraulic fracturing